Afternoons with Janet Ellis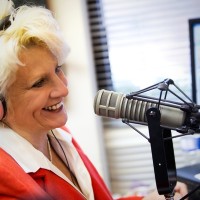 Janet Ellis was born on a hot summer day, in an old, small town hospital a few more than a couple of decades ago. She was three weeks late and weighed 12 pounds and 8 ounces at birth…she quips she's been overweight and tardy her whole life!
Janet came to Earls Family Broadcasting in 1994, after a career in micro-managing just didn't pan out. She is a graduate of the University of Oklahoma with a degree in theatre. Her love of music, children, television, sports, writing and talking…a lot, has led to a wonderful and exciting career of: aspiring actress (waitress); administrative assistant (secretary); television production assistant (gopher); associate producer (gopher with a title); football videocassette producer/director (gopher with an attitude) and high school drama teacher (aspiring actress).
Janet along with her News Talk 106.3 KRZK radio partner, Steve Willoughby has been named DJ of the year twice from the Missouri Broadcaster's Association. In addition to her radio duties at Earls Family Broadcasting, she has served as Producer and Host of "The Kids Connection" on The Vacation Channel, Branson's original televised tour guide.
Janet loves the Lord, her family, her pets, her friends, Sooner football, travel, Broadway musicals and fix-it shows. In her spare time she continues to work or her own Broadway musical and she is currently helping some flight attendants write their autobiographies tentatively titled "Ghostwriters in the Sky."